From women's watch to genderless watch
The DAY41 project is a result of the direct impetus of our female community. After thousands of votes and comments on their part, concerning the design, movement and diameter, it will finally be brought to life 8 months after its launch. The result goes against the flow of traditional watchmaking: a strong, sophisticated mechanical piece that, when all's said and done, works just as well on a woman's arm as on a man's.
In attempting to create a beautiful women's watch, in the end we've quite simply made a beautiful watch, regardless of gender.
Mechanical magic
Until now, women's watchmaking mostly consisted of quartz (battery-powered) watches, and a few mechanical watches with very high price tags. But thanks to the DAY41 project - and your votes, Ladies - we're paving the way for self-assured women's watchmaking, with no more butterflies and dragonflies.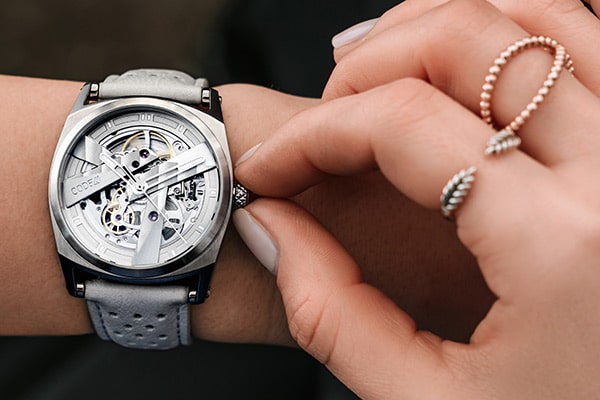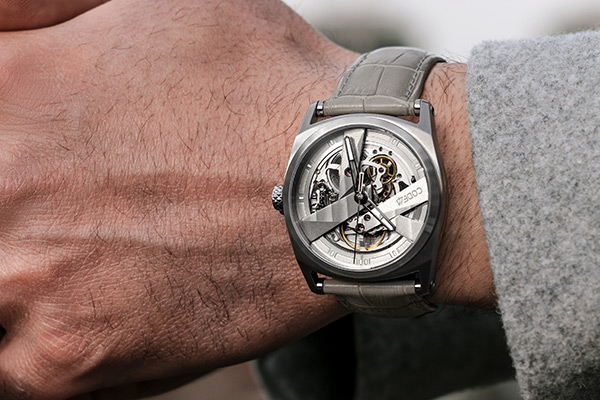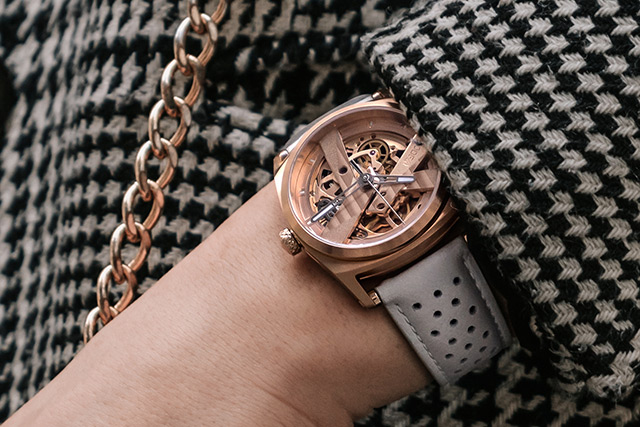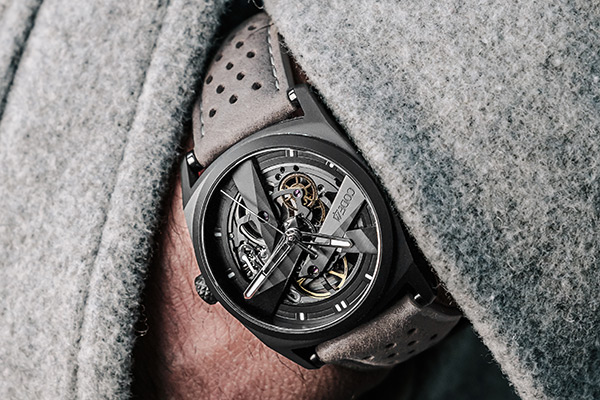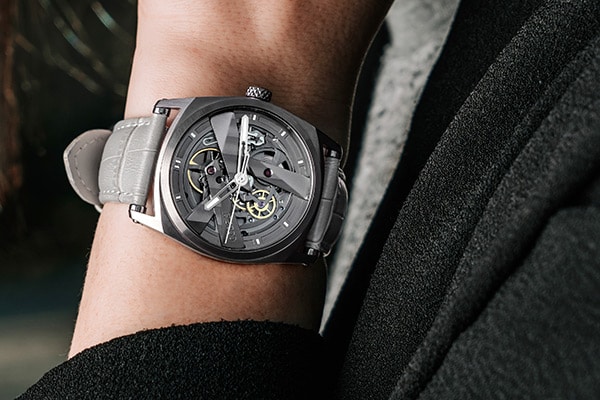 It's even better in person!
A lucky few had the chance to discover the DAY41 prototypes ahead of time. Check out their off the cuff reactions:
Why contribute to the project during its launch?
Receive a numbered piece engraved with "CREATOR EDITION"
Become a creator member of the DAY41 project
Enjoy a launch price that's much lower than the future price
CODE41 is not a brand in the traditional sense of the term; it's more of a community project. The aim is to bring enthusiasts together around a watchmaking project in order to make it a reality. Said enthusiasts thus become Creators of the project.
An exclusive design that goes against the flow
Mechanical watches are traditionally the exclusive domain of men. Thanks to the participation of thousands of women, and heightened creativity, the DAY41 project shows that they too are fond of raw, machined, mechanical designs. In fact, the case is simple and elegant, while both its lugs and its chambered structure lend it a strong, specific, recognizable esthetic. The openwork dial becomes an extension of the movement, allowing the mechanical magic to shine through.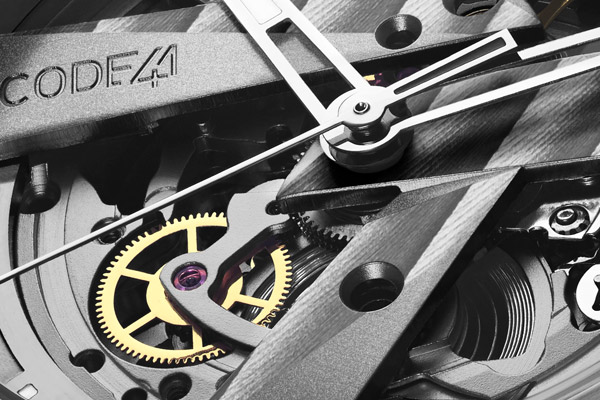 Quartz or Mechanical movement?
The majority of women's watches are fitted with electronic quartz (battery-powered) movements. Such movements have the advantage of being thin and relatively cheap, though their batteries pose a real ecological problem. What's more, they lack the beauty and magic of their mechanical counterparts.
Quartz
Battery-powered
Advantages: Low price ~ 2 to 10€, thin movement
Disadvantages: Batteries contribute greatly to pollution
Mechanical (DAY41)
Powered by wrist movements
Advantages: Long lifespan, no need for batteries, mechanical magic and beauty
Disadvantages: Higher cost ~50 to 300€ for a standard movement
If the quartz movement is a B movie, the mechanical movement is a cult classic.
How do you recharge a mechanical movement?
"Automatic" mechanical movements are fitted with an oscillating weight that recharges the watch through movements of the wrist. In swinging from left to right, the weight winds up the mainspring, just like those little cars that you have to push backwards so that they leap forwards as soon as they are released.
The DAY41 collection in 37 and 40mm
In order for the DAY41 to be able to adapt to any size of wrist (male or female), it will be available in 37mm and 40mm diameters. 5 color variants are available for the 37mm model, included one set with diamonds, with 3 variants for the 40mm. In addition, a wide range of straps will be on offer to satisfy all tastes.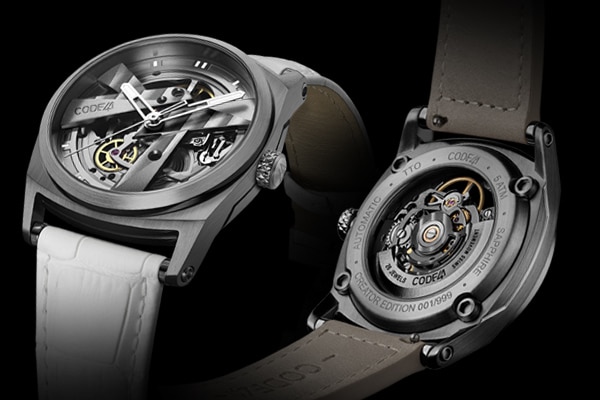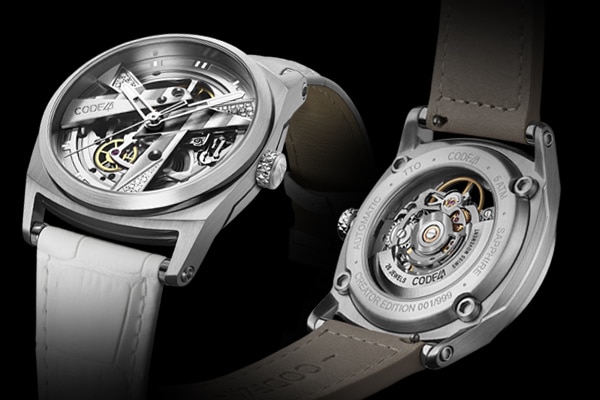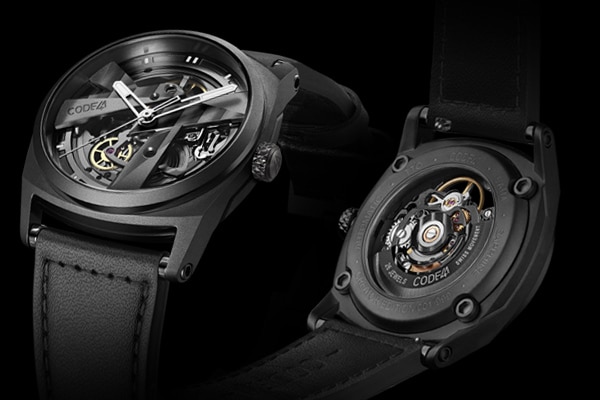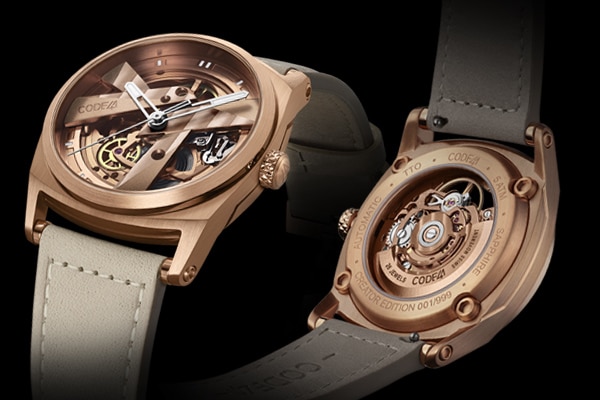 Eco-friendly straps
Our straps are fitted with an ingenious system that allows you to change your style quickly, simply and without tools. The collection consists of a varied selection of leather straps, and a steel bracelet. What's more, we've also developed 3 eco-friendly straps made from biodegradable leather, flax and even recycled paper. The icing on the cake? All of our straps are fitted with a 3-blade deployment buckle with pushers! It's simply the best.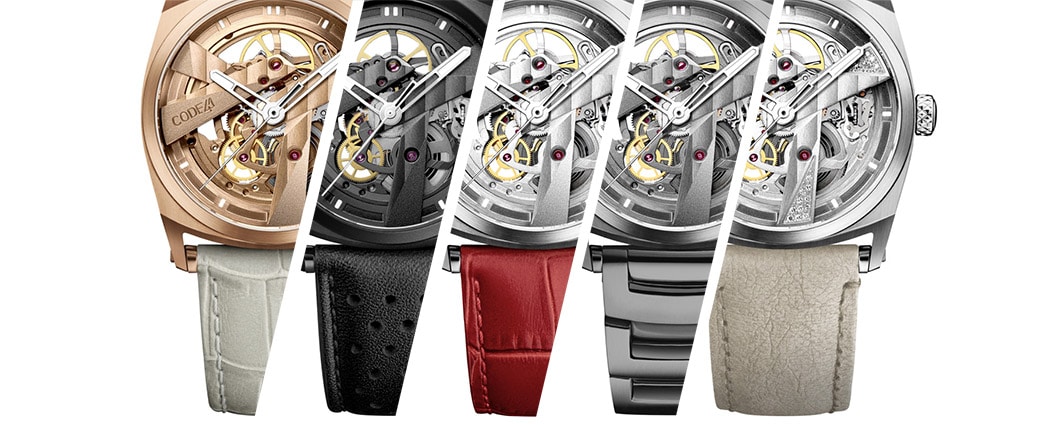 Swiss mechanical movement
We've chosen the Swiss mechanical STP movement for its excellent value for money. In addition, for a standard movement, its skeleton design is particularly successful. It boasts the distinctive features of an above-average power reserve, at 44 hours (usually 40 hours), being tested in 5 positions (normally 2 to 3), and precision worthy of the best movements, with a daily difference of -0/+15 seconds.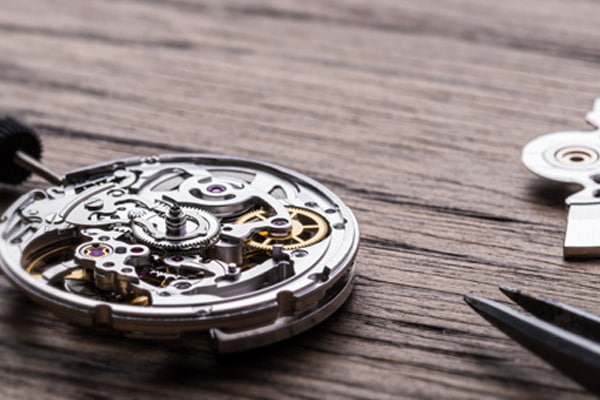 Total transparency
With our TTO label (Total Transparency on Origin), we've placed transparency at the heart of our approach. We clearly explain the production costs and mark-ups required for the project to be profitable, so that we can concentrate on what we're really passionate about: creating high-quality mechanical watches.
COMPONENT / PROCESS
COST (Tax incl.)
ORIGIN
MOVEMENT
125 CHF / 130 €
SWITZERLAND
STAINLESS STEEL CASE, TRANSPARENT BACK
85 CHF / 89 €
CHINA
DIAL
35 CHF / 36 €
CHINA
LEATHER STRAP, DEPLOYMENT CLASP
30 CHF / 31 €
ITALY/CHINA
ASSEMBLY
20 CHF / 21 €
SWITZERLAND
PACKAGING
15 CHF / 16 €
CHINA
LOGISTIC
15 CHF / 16 €
SWITZERLAND
DESIGN & DEVELOPEMENT
15 CHF / 16 €
SWITZERLAND
TOTAL PRODUCTION COSTS Tax incl.
340 CHF / 355 €
FUTURE PRICE Tax incl. (fixed multiplier 3.5)
1,190 CHF / 1,245 €
LAUNCH PRICE Tax incl.
From 890 CHF / 930 €
An unbeatable price-quality-magic ratio
Direct distribution, minimal mark-ups and transparency on costs are some of the key criteria that allow us to offer the DAY41 at a price that defies all competition.
The retail price is not the result of market positioning, but rather a direct reflection of the costs of production.

For all of our projects, we choose to work only with grade A suppliers; in other words, the best there are. The DAY41 is made from high-quality 316L steel. Particular attention is paid to the finishing, whether it be glossing, polishing or micro-beading.
Other technical information
| | |
| --- | --- |
| Frequency | 28,800 turns per hour / 4[Hz] |
| Crystal | Scratch-resistant sapphire on front and back. Anti-reflective treatment |
| Stop second | Yes |
| Shock absorber | Incabloc |
| Rewinding | Automatic through oscillating weight. Bidirectional rewinding |
| Pivots | Tempered rolled steel. High-quality treatment to prevent premature wearing of the pivots |
| Fine-tuned in 5 positions | Each movement is tested for precision in 5 positions (generally 1 in 50 pieces are tested in only 2 or 3 positions) |
| Weight | 55 grams / 80 grams with leather strap |
| Dimensions | Diameter: 37 or 40mm / Thickness: 10.5mm |
| Interchangeable strap | 21.5mm / Simple tool-free assembly system |
Free cancellation policy
As long as your order has not yet been dispatched, you can cancel it free of charge at any time.
30-day free-return policy
If you're not entirely satisfied with your DAY41, you have 30 days from receipt of your order to return it free of charge, unused and in its original packaging
2-year guarantee
In the event of technical issues, your watch will be collected and repaired at our expense in the quickest time possible.
Frequently asked questions
WHAT ARE THE CONDITIONS FOR CANCELLATION AND RETURNS?
As long as your order has not yet been dispatched, you can cancel it free of charge, or modify your choice of strap (according to availability). After delivery, you will have 30 days to return your order for free, unused and in its original packaging, in order to receive a full refund.