Today, we want to talk to you about a project that goes even further off the beaten track than its predecessors. Having already developed and offered 6 collections to our cherished community, here's a very personal project, which first took seed over 10 years ago in the mind of Claudio, founder of CODE41. Without further ado, we'll reveal its name: the Mecascape!
The genesis of the Mecascape project
For almost a century, watches have been displayed and paraded on the wrists of men and women alike, perfected over the years by the most brilliant master watchmakers. But to give mechanical beauty its rightful place, a change of perspective and outside-the-box thinking were required.
Return to 2009: Claudio, then a designer for the biggest watchmaking houses (TAG Heuer, Parmigiani, Oris, Montblanc…), had the idea to develop something that will free itself from tradition and from wrists. He got down to business with the experiment, researching the ideal proportions and reflecting on the design. The sketches and drafts were endless; crossings-out, corrections and revisions followed; the project matured and took a clearer shape.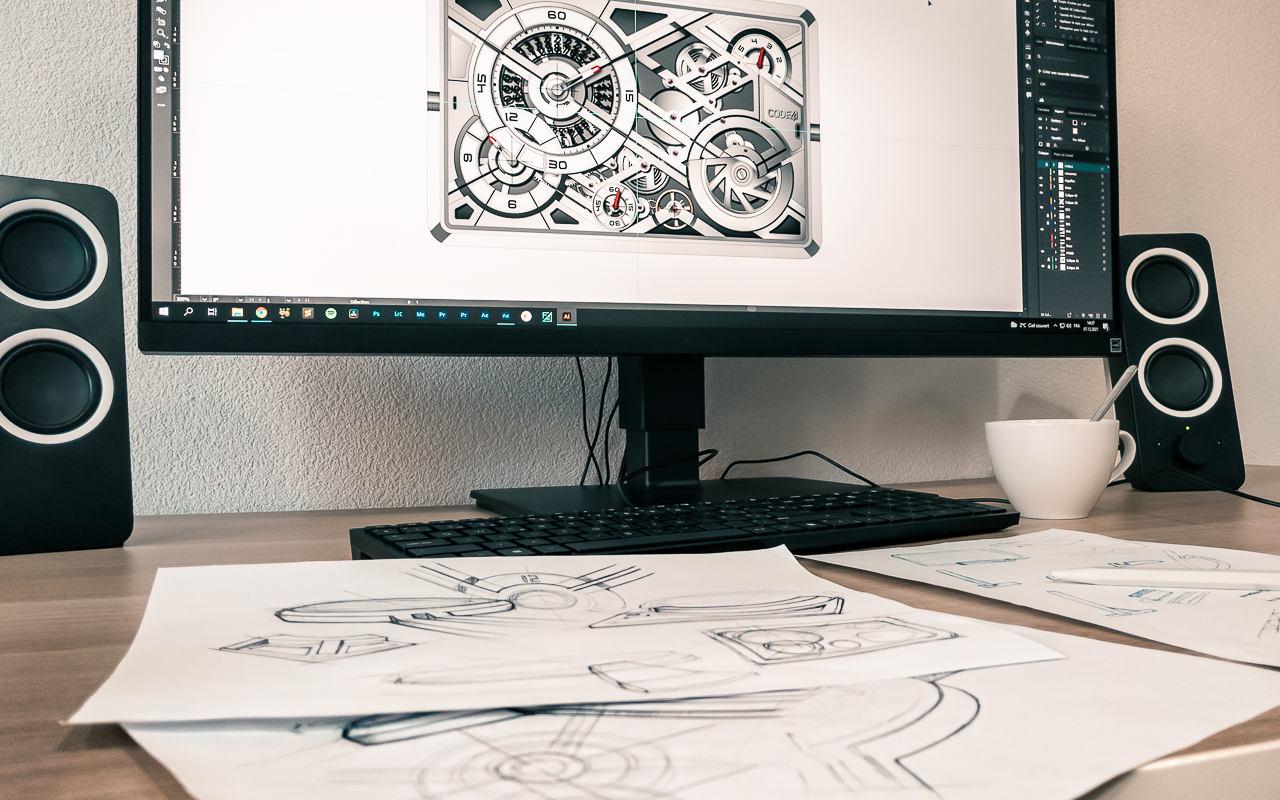 But at the time, the means of making it a reality (team, partners, suppliers) were not yet in place. Unfortunately, (for the time being) the Mecascape didn't see the light of day.
A favorable situation
12 years later, in 2021, Claudio has not last sight of his goal: to bring the Mecascape to life! This time, the stars have aligned and, as for the resources, they're available thanks to CODE41's teams and partners. Without further ado, discover more about the Mecascape!
What exactly is the Mecascape?
The Mecascape, a portmanteau of Mechanical Landscape, is a watchmaking landscape that sets mechancial beauty free by allowing the movmement to "breathe" in an unprecedented format, which we're going to be developing in close collaboration with our Swiss partners. In a traditional movement, the components are usually piled into a limited space, constrained by the dimensions of a watch case. In the Mecascape, the cogs, cylinders, balance wheel and other complications are laid out side by side to offer an unforgettable mechanical spectacle: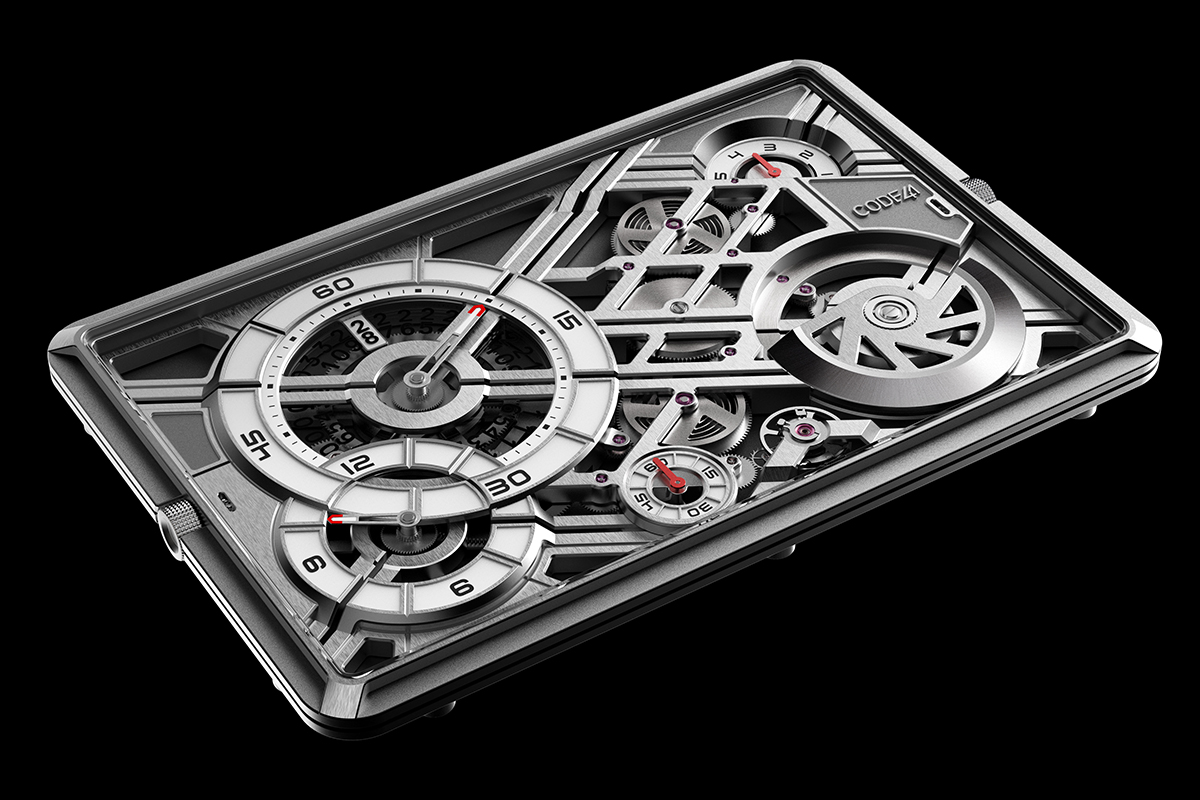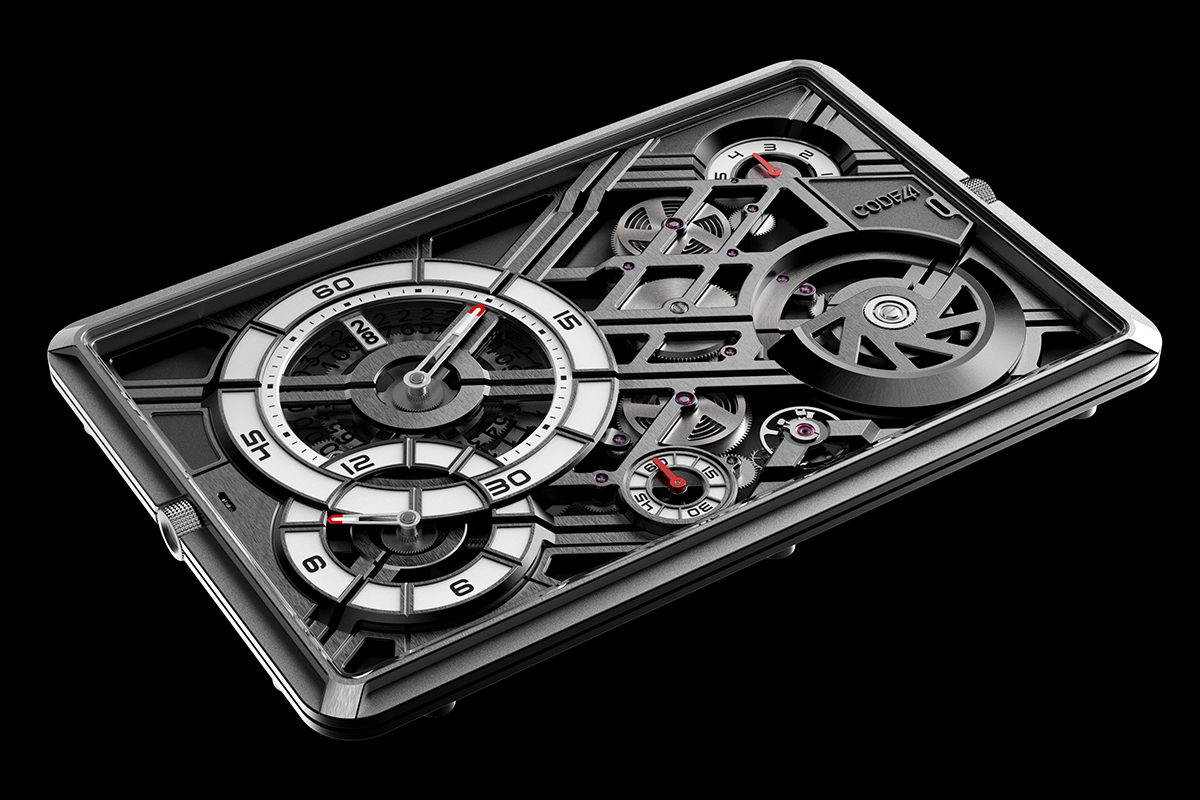 So, lovers of fine watch mechanisms, you'll be able to admire every last detail of the components that make the movement's heart beat and that, most importantly, wherever you wish! Practical and elegant, the Mecascape can in fact be placed on a desk, at home or at work, just as easily as sliding into your jacket pocket thanks to its ideal dimensions.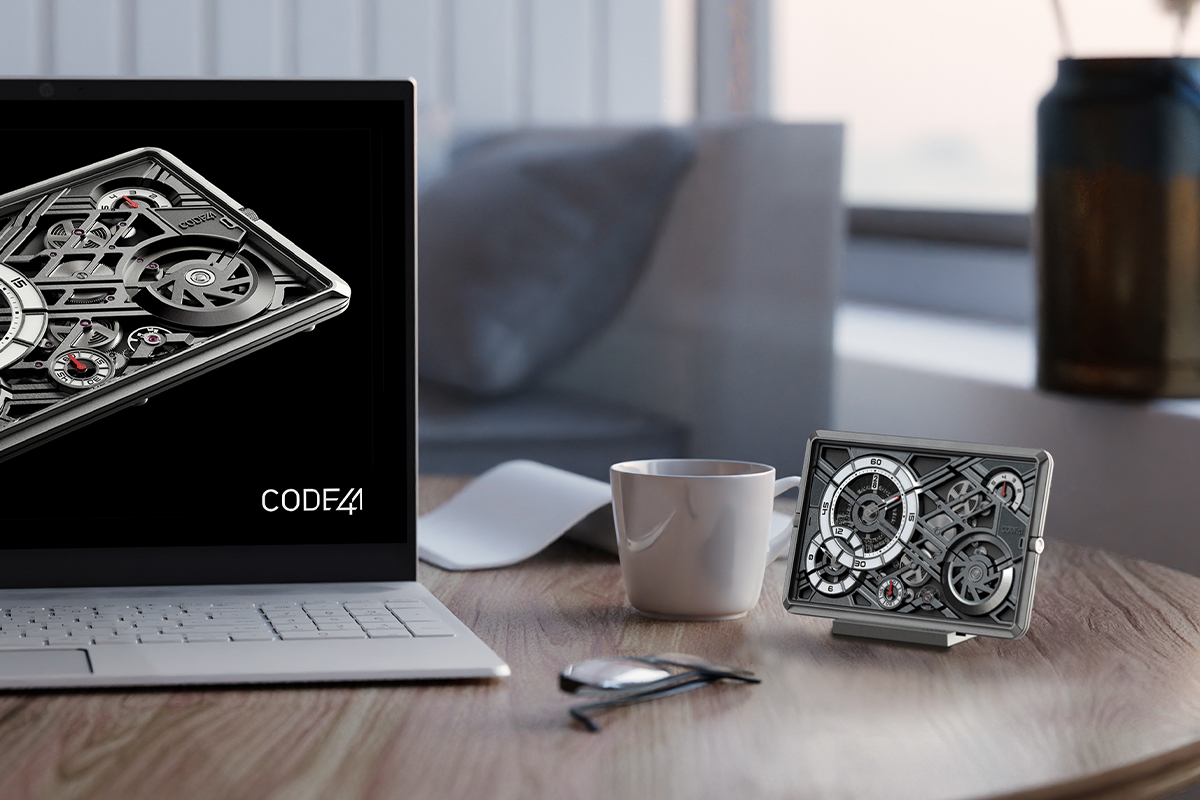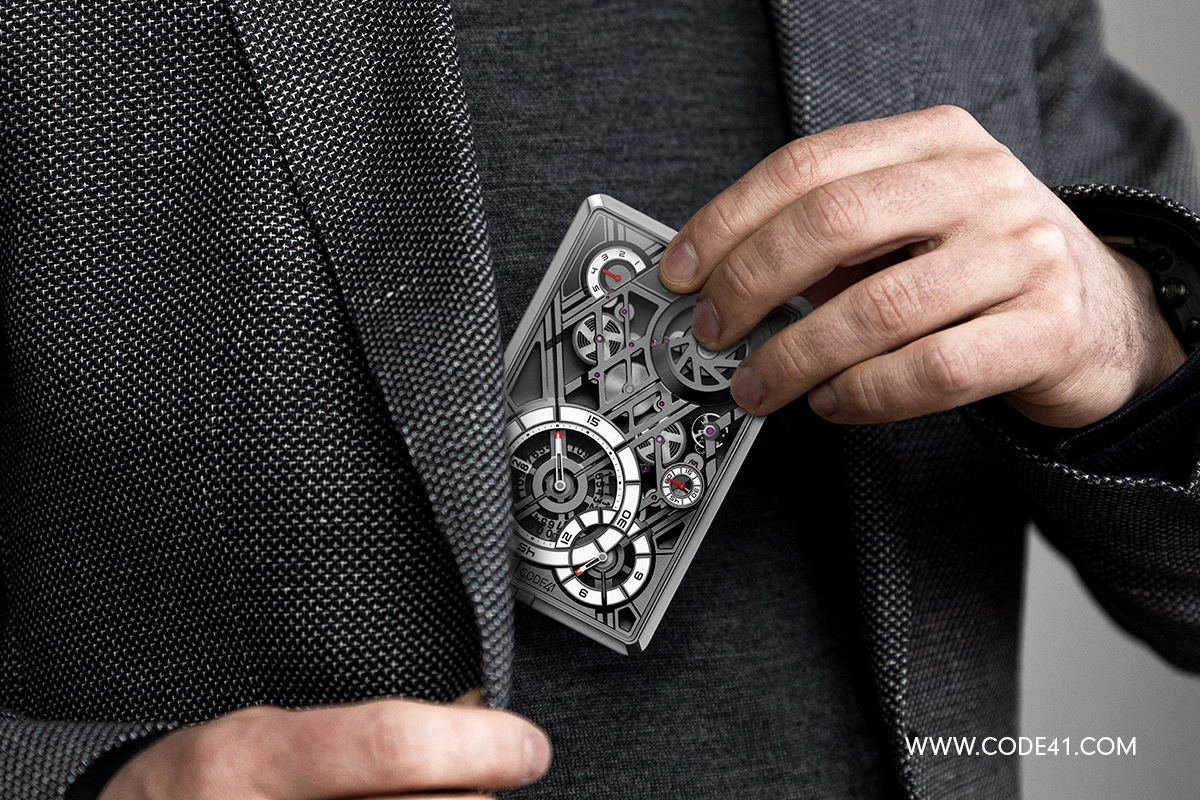 An initial technical study has already been carried out to confirm the fact that the placement of the components allows the mechanism to function in an optimal manner. Next step: perfectly calibrating each component and designing the bridges such that they are functional, as light as possible and, of course, beautiful!
Actually, there are still a number of adjustments to make, which we'll share with you along with, as always, every step in the development of this project.
Your opinion!
Today, this extraordinary project is aimed at those who want to step outside the normal and take an adventure over new watchmaking terrain. To the creative, curious and bold: the Mecascape is now in YOUR hands, because we need you! We can't wait to find out what you think, and we hope that you like this project as much as we do.

And now it's up to you:
I like it and I want to know more!
You're really thrilled and we couldn't be happier! Feel free to ask any questions you might have.
I like it but I don't think I'll buy it
Do you appreciate the project, but not to the point of buying it? Tell us why.
I don't like it
If you don't like the project, consider letting us know what you think in a comment, so we can understand why.
The price of the Mecascape
As always, we are dedicated to offering you the best possible value for money, and all in full transparency. At this stage, it's still too early to give you a precise price, because we're still in full discussion with our partners. Nevertheless, the Mecascape should be available for between 6000 and 9000 CHF.
What are the next steps?
We'll be back at the end of January 2022 to provide a summary of this first round of voting, and to announce the next steps to be taken according to your comments and impressions.
Any other suggestions?
If you have any ideas, comments or questions, please don't hesitate to leave a comment below; we'll be delighted to reply!