Thanks a million!
The 2nd pre-order for the X41 project is closed. A huge thanks to all the dreamers who believe in our work! Your enthusiasm has exceded all of our expectations.
Waiting list
Opening of pre-orders X41-Edition 4 Wednesday, July 15, 2020 at 3 pm (GMT+ 1). With this new edition, prepare to be surprised, because we've managed the impossible !
Quintessential watchmaking
The creation of a high-end movement is quintessential for fans of fine mechanical watchmaking. Until now, that pleasure was reserved for only the most fortunate. For their second project, the CODE41 team has decided to change all of that!
What makes the X41 project so special?
The chance to wear a piece of Fine Watchmaking at a price the competition can't match
Limited edition movement designed, manufactured and assembled entirely in Switzerland
Exclusive architecture and design just for the CODE41 community
Exclusive peripheral oscillating weight only mastered by a handful of brands
Launch price of less than 5,500€, whereas similar pieces cost 20,000€, and often much more
Finished and assembled by hand. Pure watchmaking Art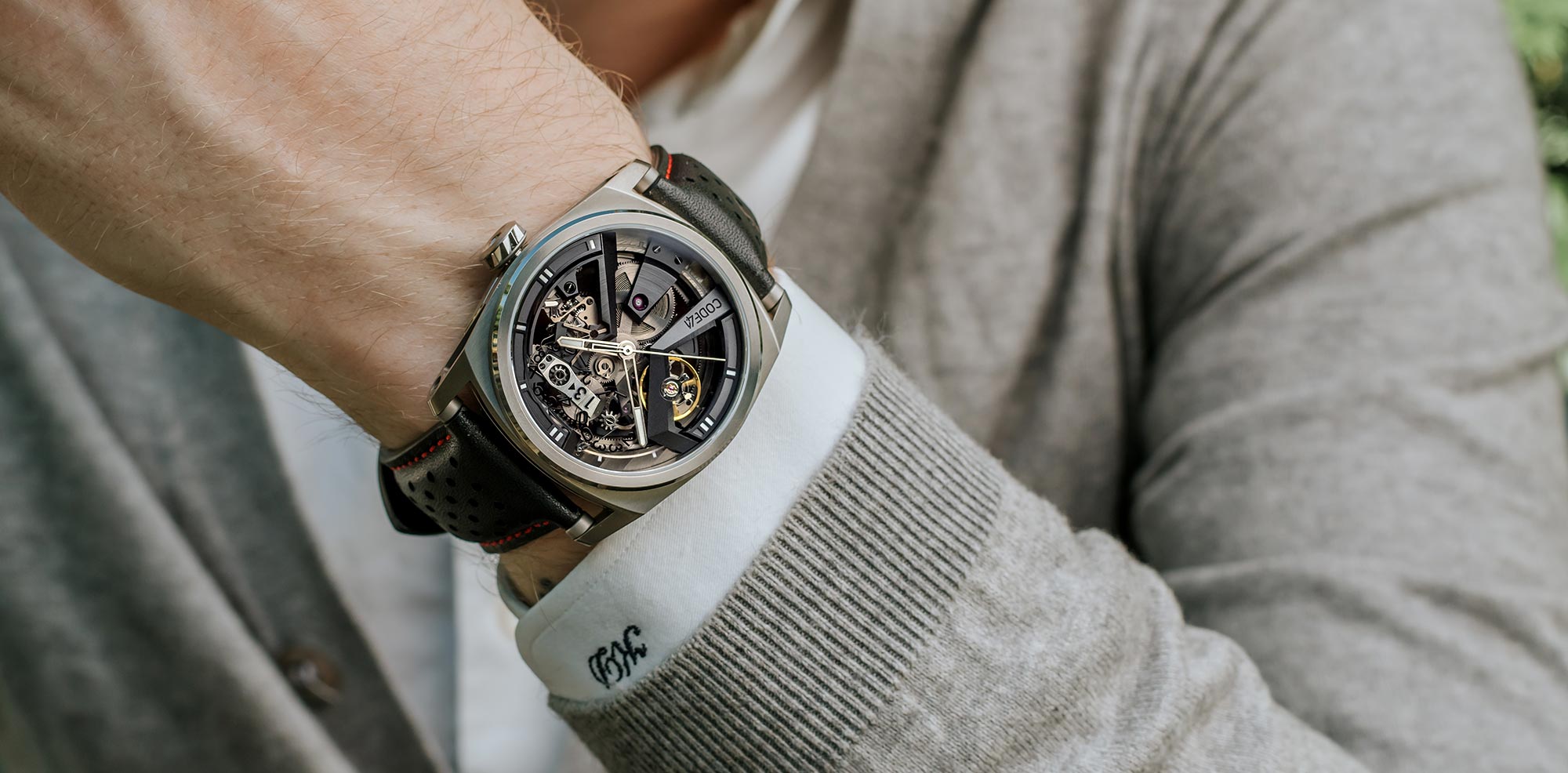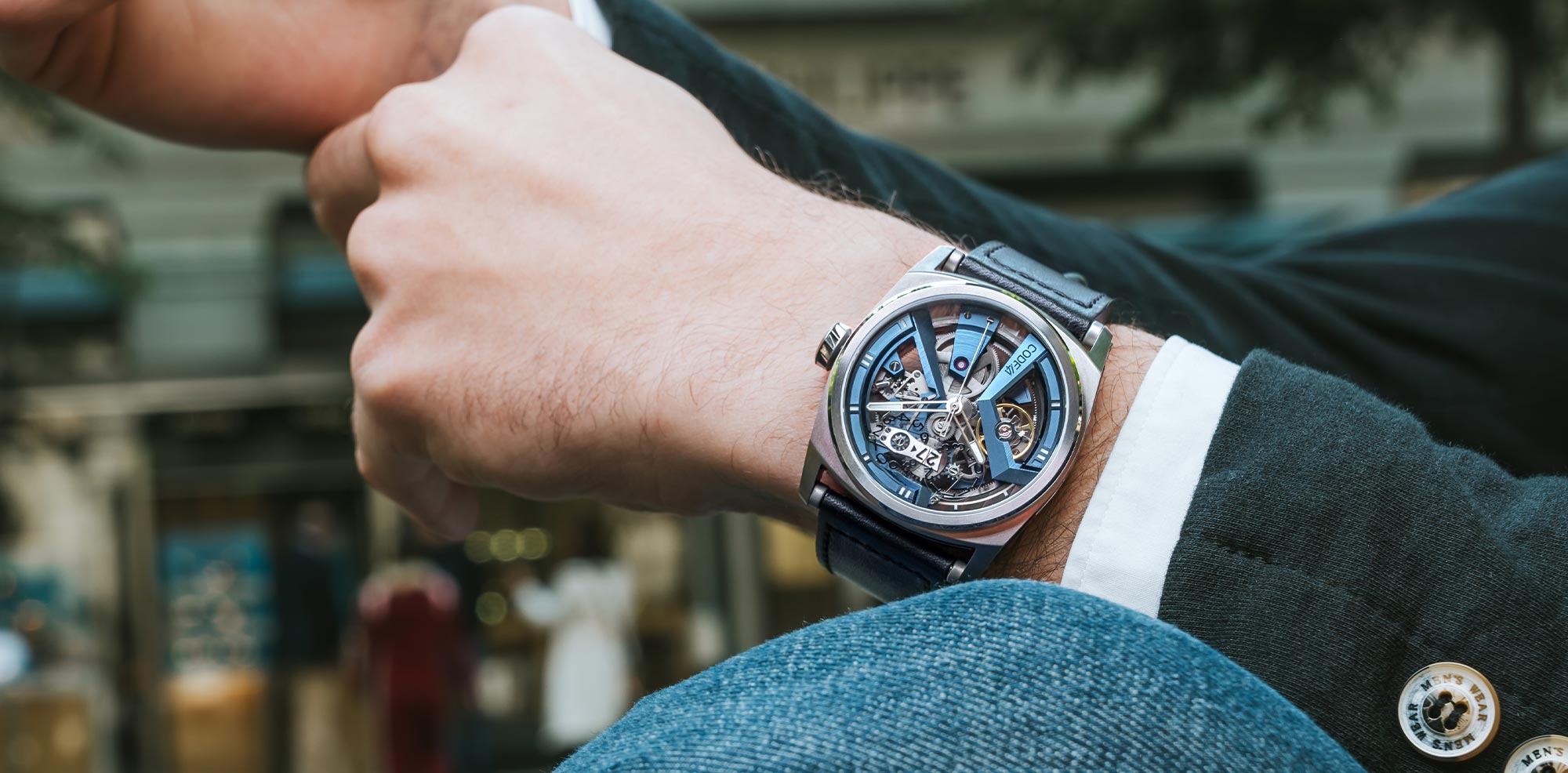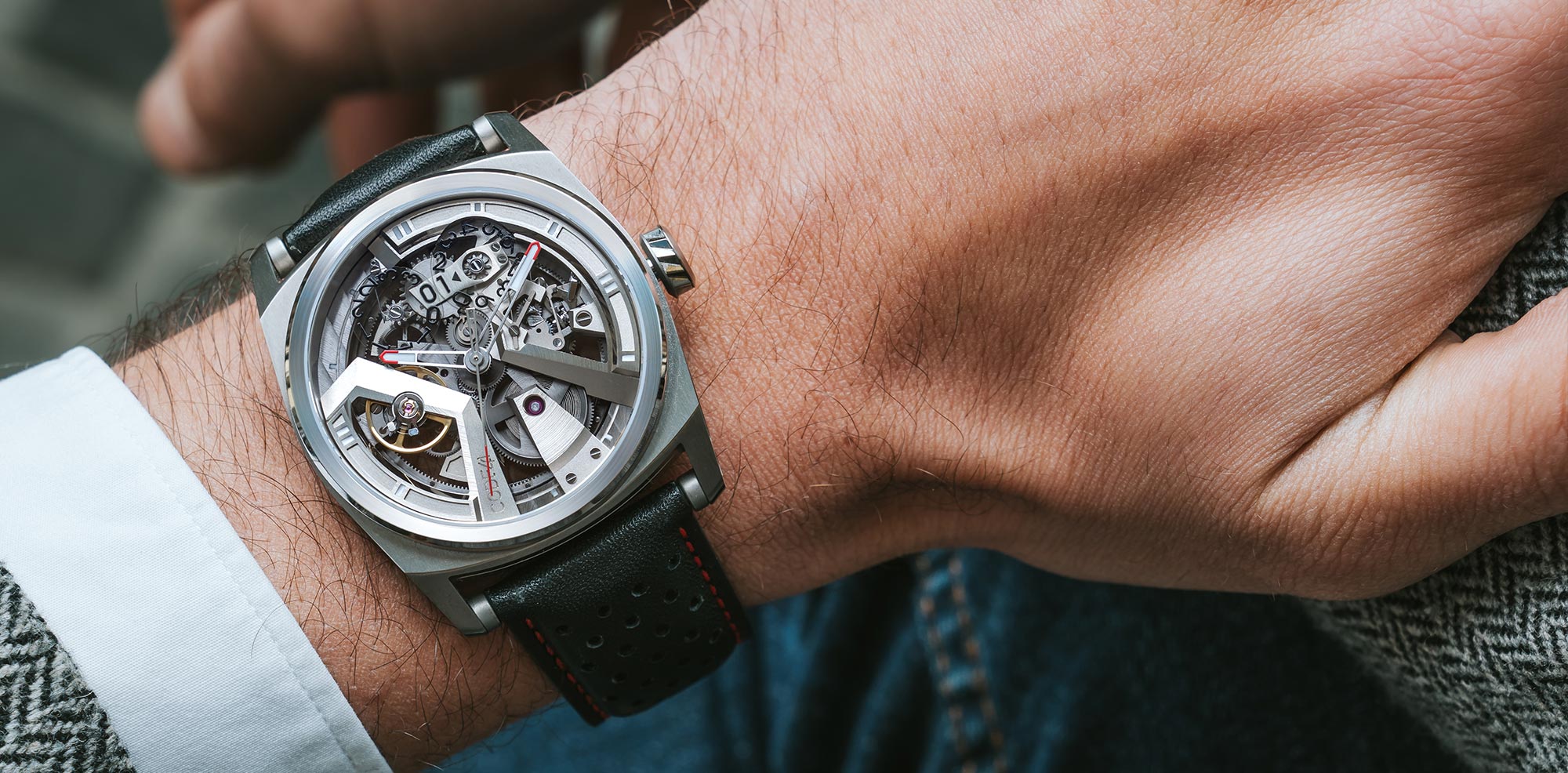 Production of the first series is going wonderfully!
The first X41 pre-orders took place in March 2019, and it was an unbelievable success! 700 watches (500 Creator Editions and 200 Edition 2s) were sold within 30 days for a total of 2,847,915 CHF. Production is on schedule and the first pieces will be delivered in December, as planned. A lucky few among the first to order last March were able to visit the workshops and follow the machining and assembly of their X41 movement live. How happy they were.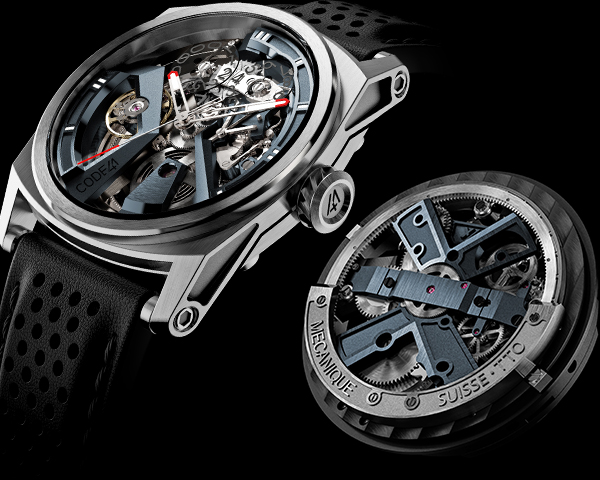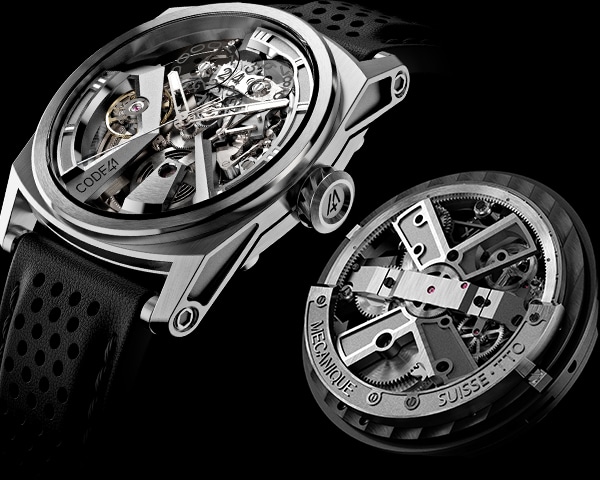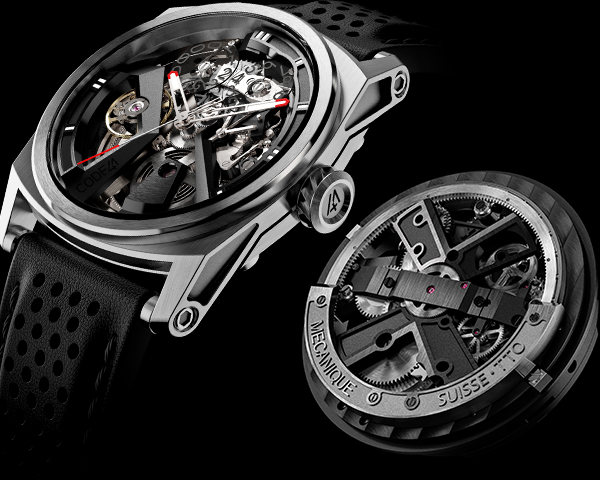 What defines a high-end movement?
These are limited edition movements (around 50 to 1,000) made according to an exclusive design and architecture. The finishing and assembly are performed by hand. The time is generally displayed on the movement, without a dial, in order to showcase the magic of these mechanical sculptures.
X41-style fine-watchmaking
Little series : ~50 à 1,000/year
The finishing and assembly are performed by hand.
Advantages : Exceptional pieces, quintessential watchmaking, pure watchmaking art
Disadvantages : High cost ~1,000 à 2,500€
« Standard » manufacture
Methods of production are similar to industrial movements, but the various processes are handled by the brand. In some cases, they are simply modified industrial movement bases.
Production : ~10,000/year
Advantages : Exclusive movement
Disadvantages : High cost ~300 to 800€
Industrial
Automated Production : ~500,000/year
Advantages : Low cost ~30 à 150€
Disadvantages : Movement is used by a large number of brands
Exclusive peripheral oscillating weight
The peripheral weight fitted to the X41 movement is a symbol of the genuine technical feats achieved by only a handful of brands. Many big-name brands have already attempted to integrate such a feature, often only to abandon it because the ball bearing was too loud, inefficient and costly to implement. In the case of the X41 movement, after several years of development, these problems have been resolved by the brand's partner by machining the components of the ball bearing in-house, in order to guarantee perfect dimensions and finishing.
Reduction in movement thickness
More transparency to showcase the mechanical beauty
A technical feat achieved by only a handful of brands
X41 Peripheral oscillating weight
Standard oscillating weight
Numbered edition
The complexity of the X41 movement, namely the fact that a large number of the processes are performed by hand, means a fairly long production period. That's why X41 watches are only produced in small, numbered series. Don't miss your chance to pre-order one of the few EDITION 4 pieces.
Special 3-year guarantee instead of the usual 2
In the event of technical issues, your watch will be collected at our cost, and repaired as quickly as possible.
Critical components optimized for reliability over several years
Even though the X41 movement has been developed exclusively for our community, the critical components have been optimized for reliability over several years.
Servicing guaranteed even if we cease to exist
We are a young brand, and the fear that we might simply have ceased to exist in a few years is relevant! But don't worry, our partner is committed to guaranteeing all repairs and servicing, even if we run into some misfortune.
30-day returns policy
If the X41 doesn't suit you, you have 30 days to return it for free, unused and in its original packaging.
Free cancellation policy
As long as your order has not yet been dispatched, you can cancel it for free at any time.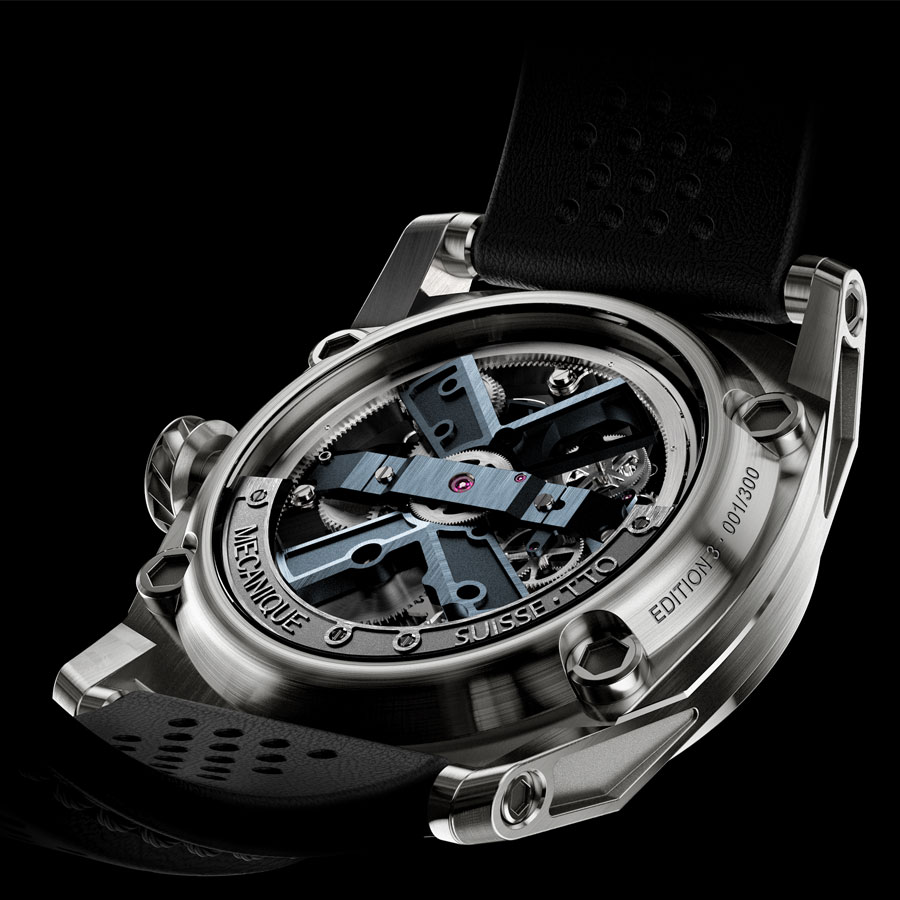 The X41 watch is more than Swiss Made
For a watch to be Swiss Made, at least 60% of its value must come from Switzerland. The figure for the X41 project is 90%, easily exceeding this requirement. Such a high quantity of Swiss components is very rare! However, the X41 watches will bear no mention of being Swiss Made, as CODE41 has been opposed to this misleading label since the very start.
The X41 project offers unbeatable value and magic for money.
Total transparency
With our TTO label, standing for Total Transparency on Origin, we've based our approach around being transparent. We clearly explain the origin and cost of each component and each process.
COMPONENT / PROCESS
COST
ORIGIN
MOVEMENT
1,620 CHF / 1,435 €
SWISS
TITANIUM CASE, TRANSPARENT BACK
145 CHF / 128 €
CHINA
LEATHER STRAP, DEPLOYMENT CLASP
30 CHF / 26 €
ITALY/CHINA
ASSEMBLY
30 CHF / 26 €
SWISS
PACKAGING
25 CHF / 22 €
CHINA
TOTAL exVAT
1,850 CHF / 1,637 €
What's the secret behind such a high price/quality/magic ratio?
Fine watchmaking is inextricably associated with the world of luxury. The latter is a synonym for inaccessibility, social standing and even ostentation. These subjective criteria have the unfortunate tendency to propel prices to artificially high levels. For the X41 project we are focused on objective values, like high quality and superior expertise. The production costs and margins allowing the project to be profitable are clearly explained. Direct distribution, minimal markups and transparency on costs are all criteria that allow us to offer the X41 at a price that the competition just can't match.
The retail price is not the result of market positioning, but rather a direct reflection of the costs of production
Competition with the big brands
Some of you have made the very relevant comment that at these prices, we're going to find ourselves competing with the big brands. If your heart is set on a more prestigious name in the same price range, clearly we won't be able to compete with that. But if your attention is drawn above all to the object and its mechanics, then the X41 project offers unbeatable value and magic for money.
Other technical information
| | |
| --- | --- |
| Frequency | 28,800 turns per hour / 4[Hz] |
| Crystal | Scratch resistant sapphire crystal (front and back) |
| Pivots | Tempered rolled steel. High-quality treatment which prevents premature wearing of the pivots |
| Adjustment to 5 positions | Each movement has been tested for precision in 5 positions. (Industrial movements: in general, 1 in every 50 units is tested in only 2 or 3 positions) |
| Weight | 55 grams / 85 grams with leather strap |
| Dimensions | Diameter: 42mm / Thickness: 11.7mm |
| Interchangeable strap | 24mm / Simple assembly with no need for tools |
An industry-leading partner
Developing a fine manufacture movement isn't something you can make up as you go along. which is why we've called on one of the best creators in Switzerland. Timeless Manufacture are distinctive in that they create all of the components used in their movements in-house, except for the balance wheel. This is a fact that deserves to be mentioned, because it's not uncommon to find manufacture movements fitted with components from industrial movements.
TIMELESS MANUFACTURE IDENTITY CARD
Founded: 2008
Complete mastery of cutting-edge watchmaking expertise
High-precision manufacturing department based in Geneva (40 individuals)
Watchmaking workshop located in Jura (10 individuals)
In-house production of all components except for the balance wheel
Frequently asked questions