Wondering what we've been up to with your X41 since you ordered in November 2019? Here's a little news bulletin that's certain to answer at least some of your questions.
The machining of the watches is already underway
Before assembling all of the parts of a movement, first you have to machine them. This is done through a process called milling (for the bridges and plates). It starts out as a small, square brass plate. Then, cutters and drill bits remove sections of the material in order to sculpt the final piece.
Discover how the watches are machined in the first 65 seconds of this video:
What's the purpose of the plates and bridges?
The plate (1) is the base of the movement, as all of the other parts are placed on top of it. There's one plate per movement. 450 plates will be produced for the X41s ordered in November.
The bridges (2):
hold the parts placed on the plate in place (sandwiched)
house the parts of a complication (Grande Date bridge)
There are 5 bridges per movement and, as with the plates, they are made from brass, decorated and colored (metal, blue or black). 2,250 bridges will be produced for this edition.
Plates and bridges in this exploded-view drawing of the X41 movement: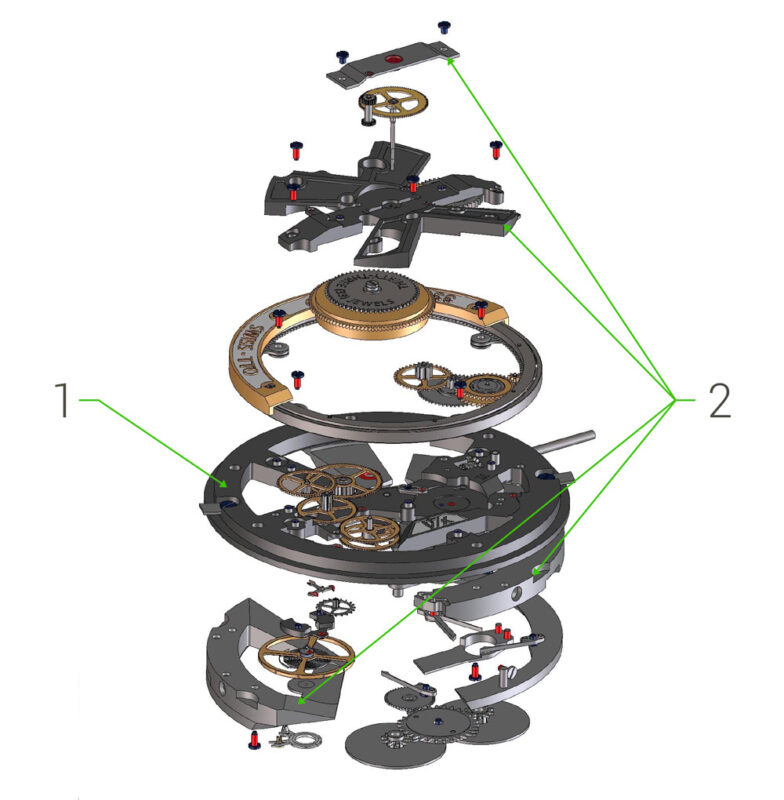 Next after machining: coloring
Once the bridges and plates have been machined, next comes the coloring phase. There are 2 types of coloring:
electroplating deposits a very fine coat of metal on a part through electrolysis (in a bath):

metal movement: nickel coating
black movement: NAC coating (platinoid alloy)

the CVD (Chemical vapor deposition) treatment is applied in an airtight oven in a controlled atmosphere for blue movements. This is a method of vacuum deposition for thin films. Starting from precursor gases, the substrate is exposed to one or more precursors in a gaseous state, which then react with and/or break down on the surface of the substrate, leading to the desired deposition.
Next steps
There are many different steps to come. In fact, Fine Watchmaking requires a great degree of meticulousness and precision; especially the control phases:
Receipt of components followed by dimensional checks.
Decoration and coloring of the brass (sandblasting, bead-blasting, polishing, damaskeening/Geneva stripes, diamond polishing, and chamfering).
Decoration and coloring of the cogs, weights and bearings.
Assembly T0: parts which will no longer be removable (cogwheel mounted on an axle, jewel bearing set into the plate, etc…)
Assembly T1: parts which are removable, assembly of the movement
T2: packaging.
Final checks