Breaking news: our reporter Yeats Tyme reveals new confidential information!
Writer : Watch Out | Date : November 26 2021
We'd had no news of our international correspondent Yeats Tyme for a number of weeks, taken by force after having revealed top secret information about CODE41. But that was without taking into account the imagination and endless resources of our international journalist!
Not long ago at all, he managed to send us a new video of hidden camera footage revealing a little more about the secret operations being conducted as part of CODE41's classified project. One word in particular comes up regularly: "Mecascape". At the time of writing these words, we have not so far succeeded in decrypting the meaning of this surprising, intriguing word… But the mystery is on the verge of being cleared up, as a date has also been revealed: 12.08.21! And this date doesn't seem to have been chosen at random, since if you add up 12+8+21, you get… 41! It can't be a coincidence… Find all of the information in the video below.
Attend the unveiling of the secret project on December 8 at 7pm (CET):
---
Newsflash: he's infiltrated CODE41 and now he reveals their secret project!
Writer : Watch Out | Date : October 28 2021
It's the scoop of the year for Yeats Tyme! The major international reporter for our magazine Watch Out managed to gain entry to CODE41's secret workshops while filming on hidden camera! In his testimony, the intrepid journalist exposes one of the human-powered watchmaking brand's most confidential projects.
As you can see, shortly after having risked his life to reveal these exclusive images, the famed Yeats Tyme simply disappeared. This silence has been worrying the Watch Out teams for several days now: we have, in fact, lost all trace of our correspondent.
That being said, the editorial board isn't finished yet; following a long-winded inquiry, our security experts have managed to get inside CODE41's internal servers.
There they managed to take this screenshot of a confidential internal memo from the CEO to his team: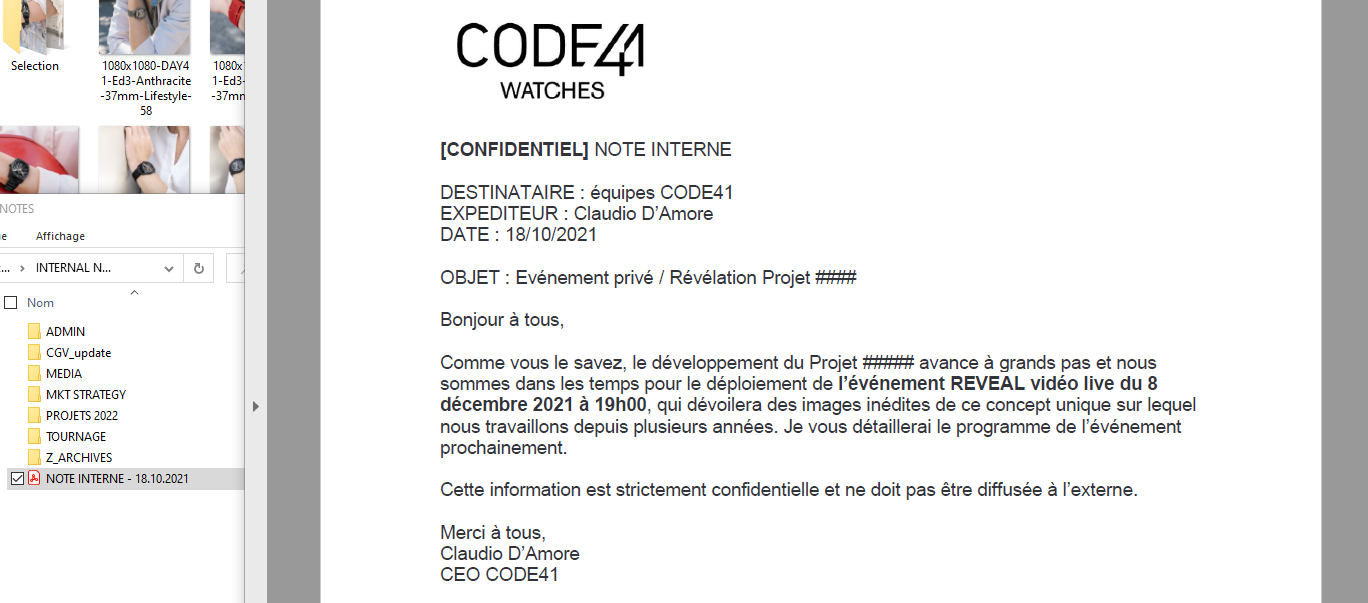 Just in time, we were also able to retrieve the link to access the live video event at 7pm (CET) on December 8, but as a precaution, we're unable to openly display it on this page.
In order to guarantee your safety, we'll send it to you directly by email. If, like us, you wish to find out more about this secret project, sign up below without further delay.
Watch Out's editorial team is fully mobilized to get to the bottom of this story, and we'll bring you up to date as soon as we have any news from our special correspondent Yeats Tyme.
Witness the unveiling of the secret project at 7pm (CET) on December 8