ANOMALY-01 mechanical watch
We chose the MIYOTA mechanical movement for their impressive robustness and reliability.
Power reserve
Thanks to the oscillating weight, each movement of your wrist recharges the mechanism. When the watch is not worn, it has a power reserve of around 40 hours (at full charge).
IMPORTANT: sometimes daily wrist movements are not sufficient to fully recharge the mechanism. The movement may also be recharged manually by turning the crown approximately 40 times in a clockwise direction. It is recommended that the owner remove the watch from their wrist before rewinding and avoid applying force.
Impermeability
WARNING: To ensure that your watch is watertight, the crown must be correctly locked.
Your ANOMALY-01 watch is water-resistant to 5 ATM, in compliance with standard ISO 22810:2010. It may be used for activities in relatively shallow water, such as swimming in pools or open water. It should not, however, be used for scuba diving, water skiing or any other activities involving rapid currents or deep immersion, or any activities in which the risk of impact is significant.
Maintenance
Movement
It is recommended that your mechanical movement be serviced every 2 to 3 years.
Gaskets
Over time and according to the geographical area in which you live, your watch's gaskets may deteriorate. It is therefore recommended that you check the impermeability annually. A watchmaker can replace the defective seals if necessary.
Practical advice
Before bathing, check that the crown is fully pushed in. After bathing in saltwater, we advise you to rinse your watch with clean water.
We are exposed to numerous sources of magnetic fields on a daily basis, which may lead to the watch running slow, fast, or even stopping completely. In that case, the simple demagnetization of the watch in a CODE41-approved workshop and a reset will be required.
Like all automatic mechanical watches, you are advised to avoid any sporting activities which could lead to physical damage to the movement (e.g. golf). You should also avoid high temperatures, so don't leave your watch in direct sunlight for too long
Characteristics
Japanese MIYOTA 82S7 automatic mechanical movement
40 hour power reserve / 21 Jewels, 21,600 vph
Hours, minutes in the center, seconds and 24hr disks
Luminescent hands and index
Sapphire glass with anti-reflective coating
Watertight to 5 ATM (if the crown is correctly locked)
Lug width: 24mm
Diameter: 42mm
Height: 12.8mm
Machine precision/adjustment: around -20/+ 40 seconds per day. When in use, the variation may be more significant; up to around -/+ 60 seconds per day.
Display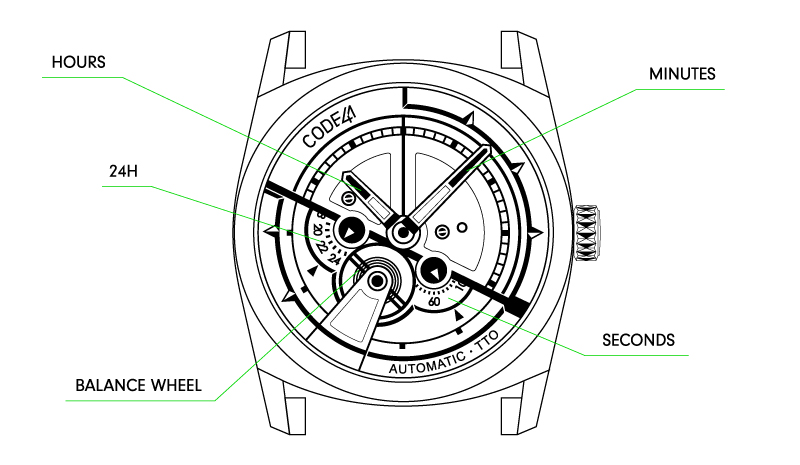 Use
Crown position 1
In this position, your watch can be wound up manually by rotating the crown in a clockwise direction.
Crown position 2
Pull the crown gently, then turn it one way or the other to adjust the time. The 24hr disk is synchronized with the hour hand and cannot be adjusted separately.
Special features of the ANOMALY-01 FORGED CARBON watch with screw-down crown
Certain forged carbon fiber ANOMALY-01 watches feature a screw-down crown. For these watches, positions 1 and 2 are located after the screw thread; meaning that you must first unscrew the crown before you can rewind it in position 1 and set the time in position 2.
Turn the crown around 4 times in an anti-clockwise direction. You'll hear a little click; you're now in position 1. Pull gently and you'll be in position 2.
Push the crown back down to return to position 1.
Then, retighten the crown by turning in a clockwise direction while pressing down on the crown and keeping it straight.